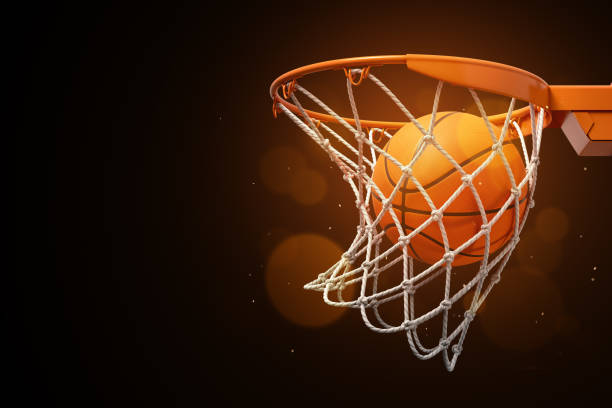 BASKETBALL REVIEW: PART 2

In part one of this three-part series of articles, you will have read about the origin of basketball, the game itself, the court on which it is played and the equipment the players use.

This article examines some words and phrases used in the game and what they mean. It also touches briefly on interesting facts about some outstanding players.
Shooting.
This is one of the game's most important skills. The three basic shots are: the lay-up, set shot and jump shot. The lay-up is a close-range, two-point shot which is commonly used. The set shot, by contrast, is a long-range shot, made 15 feet (4.6 meters) or farther out, executed by pushing the ball rather than jumping.
The jump shot is a quick-release shot taken, as the name suggests, while jumping and usually straight up. It is a difficult shot to make, albeit a popular one. It can be taken anywhere on the court.

Dribbling.
Bouncing the ball up and down on the floor, wiwth one hand at a time, is known as dribbling. Players are required to move with the ball when dribbling.
One key dribbling technique is known as the crossover. It requires moving the ball from one hand to the other while dribbling. But your defender isn't expecting the change of direction and this makes it harder for him or her to stop you or take away the ball from you.

Passing.
The two basic passing rules are: throw the ball with both hands, and always pass away from the defensive player.
Of the passes used, the chest pass is the one used most often. It is done by throwing the ball as if pushing it away from your chest, with both hands.
The bounce pass is done by bouncing the ball on the court in order to get through several defenders.

In the sidearm pass, the ball is tossed with a sidearm motion, around a defender to another player. A hook pass is done by throwing the ball with one hand, over your head in a hook-like motion. It is a useful move for a player who's trapped in a corner.

Great players

Since its beginning in 1946, the NBA (National Basketball Association) has had many outstanding players. Here are notes on a few of them.

Kareem Abdul-Jabbar, Milwaukee Bucks and Los Angeles Lakers. Originally named Ferdinand Lewis Alcindor, he holds records for points scored, shots blocked, most seasons played, most NBA Most Valued Player Awards (six) and the most all'star games (18).

Although more than seven feet tall, he was very quick and graceful. He played basketball until he was 42 years old.

Michael Jordan, Chicago, Washington. Michael is considered by many as the best NBA player of all time. Six feet five inches tall, he is a five-time NBA Most Valued Player (MVP). The well-known Air Jordan basketball shoe was built by Nike for Michael. This outstanding player was sometimes referred to as "His Airness" because of his high-flying dunks.

After winning three consecutive NBA titles, in 1991, 1992 and 1993, Michael announced that he was switching to baseball. He played for the Birmingham Barons in the monor leagues then rejoined the Bulls during the 1994-1995 season.

Following his baseball stint, he returned to basketball, finally retiring after the 2002-2003 season.

Shaquille O'Neal, Orlando, Los Angeles, Miami, Phoenix. This 325-pound, seven-foot-one-inch-tall player, now approaching the end of his career, has lead Los Angeles to three consecutive NBA titles. He has averaged 25 points and more than 11 rebounds per game, in addition to innumerable blocked shots.

Kobe Bryant, Los Angeles. While still a teenager, this player was the youngest to start an NBA game. Among other achievements, Kobe teamed with Shaquille O'Neal to lead the Lakers to three NBA Championships in a row. In 2008, he was named NBA Most Valued Player.